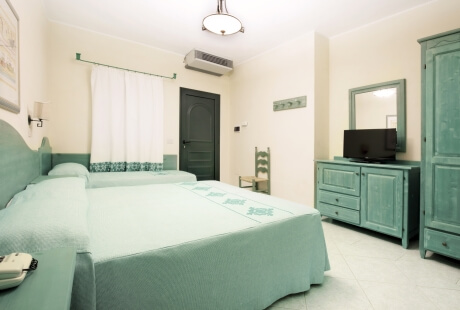 Large and bright, finely furnished in typical Sardinian style, with a splendid view of the garden, it can accommodate 3 people.
All classic triple room are all Inclusive Treatment. 
The all-inclusive offer at the CLUB HOTEL MARINA SEADA includes delectable buffet-style breakfast, lunch, and dinner.
In the evenings, the excellent selection of food is complemented by live cooking and regional delicacies that include a large selection of vegetarian, vegan, and low-carb dishes. Soft drinks, beer, wine as unlimited at your disposal. Rich coffee, cake and snacks in the afternoon, refueling to-go snacks, and much more await you at the pool bar. For late risers breakfast is always availabe.
Other items you'll find included are specialty coffees, sweet juices, selection of local alcoholic and non-alcoholic beverages.
You don't will miss Pizza, focaccia and fresh pepared fruit corner the whole day available at the bar.

"THE RESTAURANT"
Mineral water - still & sparkling
HousewIne -white/red
Draftbeer
Softdrinks from draft as Coca or Pepsi Cola, Orangade
POOLBAR (10/24)
Unlimitted beverages from draft:
Mineral water - still & sparkling
Softdrinks as Coca or Pepsi Cola, Orangade, Soda
Cold Tea
Fruit Juice
Water Ice (lemon & menthol)
Icecream
Espresso Coffee, Deka, Cappuccino
Latte macchiato
Tea
Draftbeer
Mirto, Limoncello and local Grappa
Prosecco wine
Against charge: everything not from draft, international alcoholic beverages
Snacks at Poolbar (from 11:00 to 12:30 & from 17:00 to 18:30)
Focaccia or pizza
Fresh fruit corner during the whole day (opening hours of the pool)
cake
Aperitivo (dalle 19-19.45)
Alcoholic and non alcoholic Aperitivo

Against charge: everything not from draft, specific alcoholic beverages not mentioned above
Facilities
Terrace or balcony with table and chairs
SAT-TV
Safe
Telephone
Air conditioning
Mini bar
Bathroom containing a shower
Hairdryer